5 Ways BIM is shaping the future of construction
The construction industry is subject to many enduring pain points. The sector lacks enough skilled workforce, has stagnant productivity levels (1% growth in productivity over the past 20 years) and struggles with collaboration on project management. Several technologies have emerged to help address construction's biggest woes. One of them is building information modelling (BIM).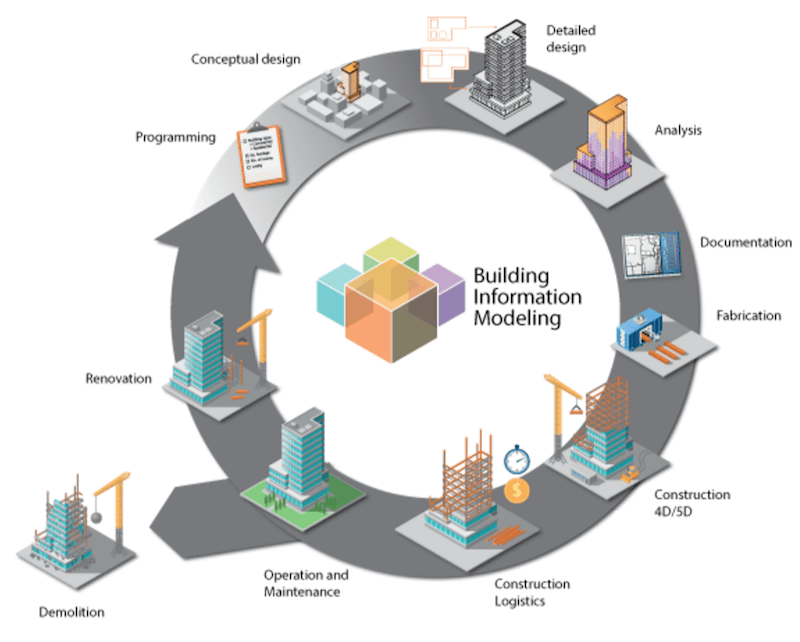 Building information modelling is a 3D-model process that provides professionals in the construction industry with data, insights and tools to plan, design and construct their projects. Thanks to BIM, all stakeholders on a project can easily collaborate throughout all steps of a building's lifecycle. By using building information modelling, they have access to a highly detailed digital representation of their projects.
Now that we have a general idea of what building information modelling is, let's look at five ways in which it's shaping the future of construction.
1. Faster project delivery
A survey by the National Building Specification (NBS) in the UK showed BIM helped increase the speed of delivery for 55% of construction professionals in the UK. Indeed, automating several aspects of the design process helps save time and see results faster.
Detecting clashes early on is key to avoid time-consuming and costly design changes or reworks. Automated clash detection is a BIM feature that can help stakeholders avoid last-minute changes and unexpected issues. Early clash detection means professionals avoid stalling construction to change designs last minute. They complete projects faster, with less human errors.
2.Lower expenses and reduced risks
The NBS survey also showed 60% of construction professionals benefit from cost efficiencies thanks to BIM. Quantifying costs can be a time-consuming process and is prone to human errors. The model-based cost estimates that come with BIM solutions help optimise this process. Thanks to BIM, design changes or price modifications are automatically updated in a project's budget. Furthermore, stakeholders can decrease costs early on by figuring out the exact amount of materials or equipment that will be needed. This not only avoids unnecessary costs but also decreases waste generated from a construction site.
3.Higher quality structures and improved client satisfaction
BIM can be paired with other technologies such as augmented or virtual reality. These technologies provide the ability to fully test a structure's design. This can help with spatial planning, validating emergency routing, verifying indoor lighting design and more. BIM therefore represents an added layer of verification that enables stakeholders to ensure the quality of a project. Furthermore, VR is a useful tool to increase client satisfaction. It provides clients with the ability to walk through designs themselves.
4.Improving sustainability
Green real estate is becoming an enduring trend. Commercial and residential buildings are among the main culprits when it comes to the depletion of resources and energy waste. Research has shown that they account for an important part of CO2 emissions in the Western world, 40% in the US and 36% in the EU.
As previously mentioned, construction professionals can reduce waste by using BIM functionalities to assess the exact amounts of materials they need. Thanks to BIM's integrated analysis and evaluation tools, professionals can also compare materials to choose more sustainable options. Indeed, these evaluation tools can help stakeholders find and assess materials with less carbon impact.
5.Smoother building handover
BIM continues to provide ROI even after a construction project is complete. Facility managers and renovators can access accurate digital records throughout a structure's lifecycle.
Thanks to building information modelling, an owner can easily check their building's components. Installation dates, maintenance history and warranty information are all accessible to them. Convenient access to such detailed information helps ensure efficient building management.
In the case of smart buildings that have integrated sensors, the combination of AI and BIM could empower facility managers to analyse the collected data for preventive maintenance. It could also inform architecture firms of the quality of their builds and their deterioration over time which, in turn, could allow them to learn from their potential mistakes for their future builds. In fact, some experts even suggest architectural design automation could be a reality in the future thanks to the combination of BIM and machine learning.